Massage & SPA


TANTRIC PARADISE
Services for ladies and gentlemen

Massages and SPA Warsaw
Everyday fatigue, problems and worries negatively affect the well-being, humour, and behavior of each of us. And that's what we had taken into account when we created a unique place and atmosphere where you can recover physically and mentally
The so-called corner of bliss for the whole of Warsaw.
In our salon we perform various types of massages. We have collected various techniques from around the world that will help you gain energy, relieve fatigue and relax emotionally. Beautiful and qualified masseuses individually, with care and tenderness approach each of our guests. They will help to choose the massage that the soul and body need.
Each massage can start with warming up in the sauna.
Pleasant music, warm natural oils, lovely interior design and friendly service help achieve relaxation and harmony.
We pay special attention to cleanliness and hygiene of our treatments, we respect your trust and we do our best for you.
We invite you and wait in the very center of Warsaw.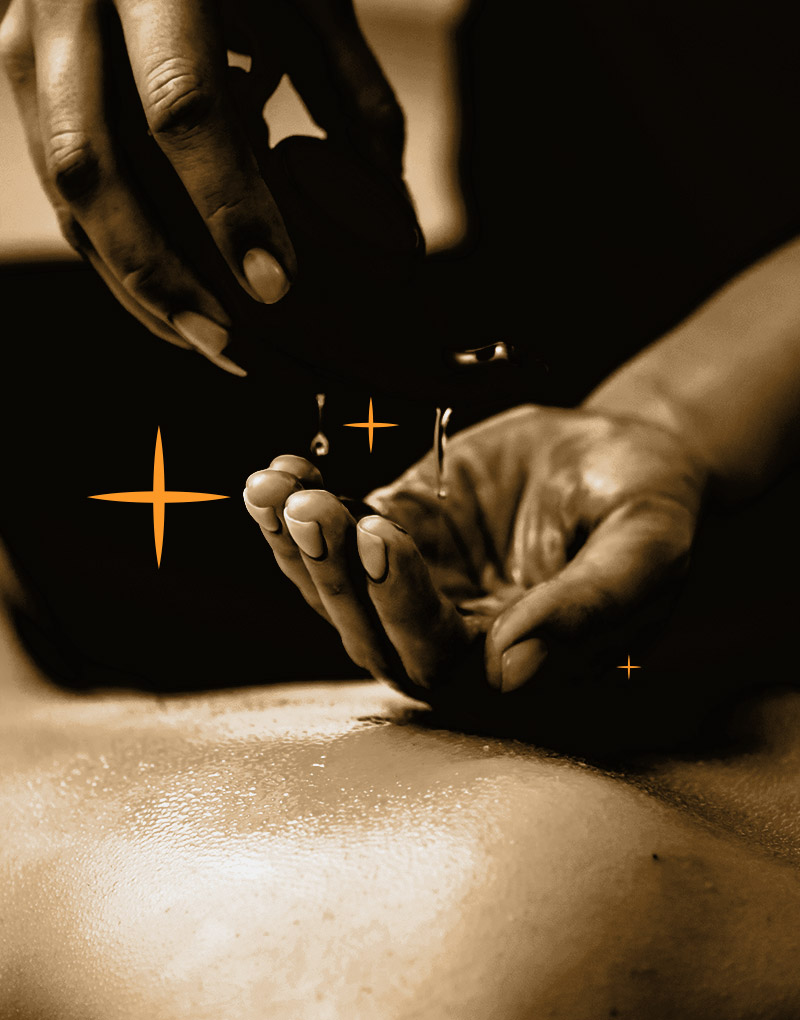 Time for pleasure
Pamper yourself
After a difficult day or week, you deserve a moment of pleasure, during which your soul and body will plunge into the land of heavenly sensations.
You deserve to relax, recover, and think only of the positive. Only passionate and stimulating emotions await you in Tantric Paradise.
Standard
60 minutes
400 PLN
Standard for 4 hands
750 PLN
Standard for couples
750 PLN

Includes: strong, tantric or relaxing massage, back, leg and foot massage and body to body massage.
Lingam / Yoni massage.
Medium
90 minutes
550 PLN
Medium for 4 hands
1000 PLN
Medium for couples
1000 PLN
Includes: shared shower with a masseuse, strong, tantric or relaxing massage of back, legs and foot massage, body to body massage.
lingam / yoni massage.
Platinum
120 minutes
750 PLN
Platinum for 4 hands
1400 PLN
Platinum for couples
1400 PLN
Includes: shared shower with a masseuse, strong, tantric or relaxing massage of the face, back, arms, legs and feets, body to body massage. 2x Lingam / Yoni massage.
Sauna
Collect stamps
for visits. Every 7 massage discount 50%!

Looking for the best ways to relax after a hard day, it is worth visiting Tantric Paradise Warszawa SPA. It is a place full of magic and delight in many different editions. Massage is not only a relief for tired muscles, but also a boost of energy for the mind and a way to forget about worries for a long time. See for yourself – enter the world of tantra and enjoy being pampered!
Massage salon Warsaw – enter and feel the magic
Tantric Paradise SPA Warsaw is a unique place. By entering here, you take off the burden of your previous worries and let experienced masseuses take care of your body and spirit. All massages from our offer take place in very atmospheric conditions. We take care of subdued light, gently pulsating candles, pleasant fragrances with a relaxing effect. All this allows you to feel the atmosphere even before you lie down on the couch and surrender to a soothing touch. Remember – in Tantric Paradise you are who you want to be!
Warsaw Tantric Paradise massage salon – what massages do we offer?
By choosing our SPA in Warsaw, you can experience pleasure in many different ways. We offer different types of massage, depending on your needs. When you need relaxation after a hard day, unblocking energy in the muscles of the whole body, overstimulation of both cerebral hemispheres – we recommend tantric massages, relaxation, but above all four-hand massages – using the skills of two experienced masseuses at the same time. What distinguishes our massage salon from others is a wide range of erotic massages, addressed to men, women and couples. Gentle stimulation of erogenous zones in the right way relaxes, helps to get to know the needs of your own body better, increases the level of libido and positively tunes in. All this while ensuring maximum discretion and professionalism. We are not an ordinary massage parlor. In Tantric Paradise, everything was created to give you the maximum satisfaction from being a woman or from being a man – in every sense of the word. With us you will learn what true pleasure is, but above all – you will learn how to lead you to it!
Erotic massages Warsaw – allow yourself a delight
Tantric Paradise massage salon Warsaw will allow you to experience a truly deep relaxation – similar to what you experience during sex.
Yoni Massage
This is a special kind of touch, designed for women. It increases the blood supply to the vagina and erogenous zones, relaxes and strengthens libido. Its variation intended for men is
Lingam massage
– Massage of the penis and male genitalia, allowing you to feel pleasant desire, strengthen blood supply, improve blood and lymph flow. Selecting
Nuru massage
, performed with the whole body of the masseuse, you have the opportunity to experience extremely pleasant sensations, additionally intensified by the smell of sensual oils with which your body will be rubbed. Through
erotic massage
You can strengthen not only your future sexual experience, but also improve the quality of your relations and even take care of the health of your own reproductive system.
Massage for couples Warsaw SPA – a perfect gift for two
Our massage salon is open to getting to know your own sexuality and experiencing the most pleasant sensations not only with the participation of the masseuse, but also with a partner. Selecting
massage for couples
In Tantric Paradise, you can give both of you a sensational gift that will help you work even better on your shared pleasure in the future when you are alone. Inviting your partner to an erotic massage for women and men is an excellent step to improve the quality of your intercourse and open up to many new ways of achieving sexual satisfaction. Thanks to careful observation of the work of our masseuses, you can learn where and how to touch your partner to give the greatest pleasure, how to arrange the perfect scenery, but above all you will unlock your prejudices and learn to focus fully on what is most important to both of you – pleasure.
Tantric Paradise Warszawa – how long does the massage last?
You decide how long you will be subjected to sensual touch and caresses, which will allow you to completely relax your body and mind, and at the same time release sexual energy and experience a completely new kind of pleasure. We offer 60-, 90- and 120-minute massages, depending on your preferences. During this time, through deep pressure of your muscles, the masseuse will affect their relaxation. Deep muscle massage improves the blood supply to the whole body, regulates the supply of nutrients to each of its cells, reduces tension, adds energy and calms down wonderfully. During the massage, you can close your eyes and undergo the soothing effect of the masseuse's caresses, the aroma of fragrance oils, the sounds of relaxing music. Day SPA Warsaw Tantric Paradise is definitely one of the best ways to stimulate your energy for further challenges of the day or enter the phase of rest after a hard week.
SPA Warsaw – how do massages affect well-being?
Just being in a place filled with pleasant smells, where you can listen to pleasant sounds, allows you to forget about worries and throw off the burden of responsibility. In Tantric Paradise, we encourage you to completely calm down in the way you like – your suggestions will always be welcome, and we will certainly adapt to them. Erotic massages begin with a joint sensual shower with a naked masseuse, and end as you feel like – a perfect finale that will give you chills. The deep relaxation you will experience during the massage is great for stimulating circulation, it will become the boost of energy you needed. It has been known for a long time that kneading individual parts of the body after physical exertion or after a whole day spent in an uncomfortable position has a positive effect on well-being. Happiness hormones are released, thanks to which you feel light and pleasant. You feel warm, soft and blissful – just like just before falling asleep. Systematic use of massages is not only a way to regenerate, but also to stimulate the energy dormant in you, rejuvenate, refresh your mind. A few dozen minutes in our SPA will give you much more than a deep sleep after a hard day!
Treat yourself to a day at the Tantric Paradise SPA
In Tantric Paradise you can get rid of all internal blockages. Our wonderful, graceful masseuses are here to provide you with maximum pleasure, not forgetting about full professionalism and discretion. Sexy lingerie, moody candles, fragrance oils, comfortable beds – all this fuels the unique atmosphere and gives you a feeling of forgetfulness that you will not experience anywhere else. Immerse yourself in the rich world of Tantric Paradise experiences. Learn what it is
tantric massage
, experience the pleasure of erogenous zones, which you have not known before. Discover yourself and delight yourself on many levels –
you definitely deserve it!
GIFT CARD
If you are looking for a gift for a person close to your heart, we have prepared the perfect gift for them – a voucher for any massage.
A voucher worth PLN 400 is a great proposition – in this amount the recipient can choose one of the Tantric Paradise SPA rituals.
Remember that the amount you pay will be visible on the voucher, and the recipient chooses the best treatment or treatments for himself.
How it works?
All issues related to the voucher can be settled online – you will receive it in electronic form, to your e-mail, provided when placing the order. You can pay the voucher by card, traditional transfer or online, by PayU payment.
You can also pay for and pick it up at the salon. If you prefer the traditional method, please contact us to determine the scope and form of the gift – the amount of the voucher and the data of the recipient. Based on your guidelines, we prepare an elegantly wrapped gift that you can pick up in person (we work 7 days a week).
The recipient, after receiving the gift, chooses the date for the tantric Paradise voucher. All vouchers are valid for up to 6 months!
PROMOTION
Buy a voucher* for any massage in Tantric Paradise (60 min)!
You have 2 variants to choose from:
When you buy 3 massages you will pay ONLY PLN 370 for a massage (PLN 1110 in total)
When buying 5 massages you will pay ONLY PLN 350 for a massage (a total of PLN 1750)
* Promotional vouchers are valid for 6 months from the date of purchase. The voucher is a personal voucher – only one person can use the purchased massages.

WE WARMLY INVITE YOU!
To order a gift card, fill out the contact form.
Deposit the appropriate amount to the account:
63 1020 1185 00004902 0313 9946.
In the transfer title, write the gift card, name / surname or nickname of the recipient.
The gift card is valid for 6 months from the date of purchase.
Testimonials
What They Say


Piotr
"Gorąco polecam zwiedzić to miejsce!"

Marcin
"Świetny wybór dla relaksu.
Piękne miejsce i personel."

Paulina
"Miejsce gdzie zapominam o wszystkim.
Gorąco polecam."

Witek
"Nie znam lepszego miejsca dla masażu "

Sławek
"Staranie dopasowana muzyczka i ładne dziewczynki. Zapoamiętam ten rytuał masażu na zawsze 🔥"
How far in advance do I have to make an appointment for a session?
Customers make an appointment on the same day, just before arrival. However, if your favorite masseuse is not there, you can make an appointment at another time.
Do I need to confirm my arrival for a massage in advance?
Yes, please confirm your visit at least one hour before your arrival.
How can I arrange a massage?
In our salon you can arrange a session in many ways – most conveniently by phone and e-mail.
What is the reason for the price of massage?
Massages are performed by extremely attractive young and trained masseuses. They work naked, so the price is adequate to the service provided. Each session takes place in sterile and hygienic conditions.
Is it possible to massage in the hotel or apartment?
Yes, but the price for 1 hour will be higher by 100 PLN than in the salon. In addition, an exit fee of PLN 50 is added.
alcohol and drugs = NO
We do not accept clients under the influence of alcohol and drugs.