Massage & SPA


TANTRIC PARADISE
Services for ladies and gentlemen

Massages and SPA
Everyday fatigue, problems and worries negatively affect the well-being, humour, and behavior of each of us. And that's what we had taken into account when we created a unique place and atmosphere where you can recover physically and mentally
The so-called corner of bliss for the whole of Warsaw.
In our salon we perform various types of massages. We have collected various techniques from around the world that will help you gain energy, relieve fatigue and relax emotionally. Beautiful and qualified masseuses individually, with care and tenderness approach each of our guests. They will help to choose the massage that the soul and body need.
Each massage can start with warming up in the sauna.
Pleasant music, warm natural oils, lovely interior design and friendly service help achieve relaxation and harmony.
We pay special attention to cleanliness and hygiene of our treatments, we respect your trust and we do our best for you.
We invite you and wait in the very center of Warsaw.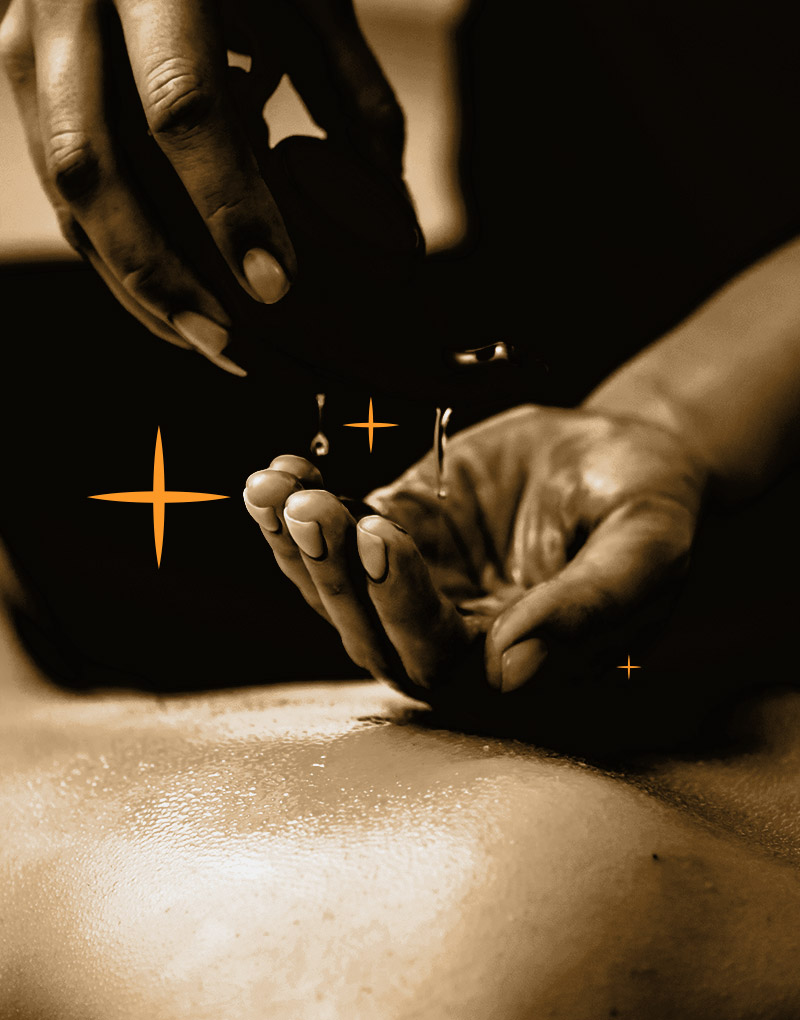 Time for pleasure
Pamper yourself
After a difficult day or week, you deserve a moment of pleasure, during which your soul and body will plunge into the land of heavenly sensations.
You deserve to relax, recover, and think only of the positive. Only passionate and stimulating emotions await you in Tantric Paradise.
Standard
60 minutes
350 PLN
Standard for 4 hands
700 PLN
Standard for couples
700 PLN

Includes: shared shower with a masseuse, strong, tantric or relaxing massage, lingam / yoni massage.
Medium
90 minutes
500 PLN
Medium for 4 hands
1000 PLN
Medium for couples
1000 PLN
Includes: shared shower with a masseuse, strong, tantric or relaxing massage of the whole body, legs and feet,
lingam / yoni massage.
Platinum
120 minutes
700 PLN
Platinum for 4 hands
1400 PLN
Platinum for couples
1400 PLN
Includes: shared shower with a masseuse, strong, tantric or relaxing massage of the whole body and legs, feet, arms, face, lingam / yoni massage.
Collect stamps
for visits. Every 7 massage discount 50%!

GIFT CARD
If you are looking for a gift for a person close to your heart, we have prepared the perfect gift for them – a voucher for any massage.
A voucher worth PLN 350 is a great proposition – in this amount the recipient can choose one of the Tantric Paradise SPA rituals.
Remember that the amount you pay will be visible on the voucher, and the recipient chooses the best treatment or treatments for himself.
How it works?
All issues related to the voucher can be settled online – you will receive it in electronic form, to your e-mail, provided when placing the order. You can pay the voucher by card, traditional transfer or online, by PayU payment.
You can also pay for and pick it up at the salon. If you prefer the traditional method, please contact us to determine the scope and form of the gift – the amount of the voucher and the data of the recipient. Based on your guidelines, we prepare an elegantly wrapped gift that you can pick up in person (we work 7 days a week).
The recipient, after receiving the gift, chooses the date for the tantric Paradise voucher. All vouchers are valid for up to 6 months!
PROMOTION
Buy a voucher* for any massage in Tantric Paradise (60 min)!
You have 2 variants to choose from:
When you buy 3 massages you will pay ONLY PLN 330 for a massage (PLN 990 in total)
When buying 5 massages you will pay ONLY PLN 300 for a massage (a total of PLN 1500)
* Promotional vouchers are valid for 6 months from the date of purchase. The voucher is a personal voucher – only one person can use the purchased massages.

WE WARMLY INVITE YOU!
Testimonials
What They Say


Piotr
"Gorąco polecam zwiedzić to miejsce!"

Marcin
"Świetny wybór dla relaksu.
Piękne miejsce i personel."

Paulina
"Miejsce gdzie zapominam o wszystkim.
Gorąco polecam."

Witek
"Nie znam lepszego miejsca dla masażu "

Sławek
"Staranie dopasowana muzyczka i ładne dziewczynki. Zapoamiętam ten rytuał masażu na zawsze 🔥"
How far in advance do I have to make an appointment for a session?
Customers make an appointment on the same day, just before arrival. However, if your favorite masseuse is not there, you can make an appointment at another time.
Do I need to confirm my arrival for a massage in advance?
Yes, please confirm your visit at least one hour before your arrival.
How can I arrange a massage?
In our salon you can arrange a session in many ways – most conveniently by phone and e-mail.
What is the reason for the price of massage?
Massages are performed by extremely attractive young and trained masseuses. They work naked, so the price is adequate to the service provided. Each session takes place in sterile and hygienic conditions.
Is it possible to massage in the hotel or apartment?
Yes, but the price for 1 hour will be higher by 100 PLN than in the salon. In addition, an exit fee of PLN 50 is added.